Objective :
Developing innovative technologies
for personalised medicine
Partners :
MEDES, ITA, CHU Toulouse
Univ Lisbonne, CETEMMSA, CONETIC

Our lifestyles are changing. These changes generally have a direct impact on our health.
TEMIS offers effective solutions to measure and assess them thanks to the use of simple technology. The solutions generate health indicators making it possible to provide a more personal form of medicine to each individual.
The TEMIS project (21 months) is produced thanks to co-financing from the European Union and the ERDF in addition to the SUDOE territorial cooperation programme.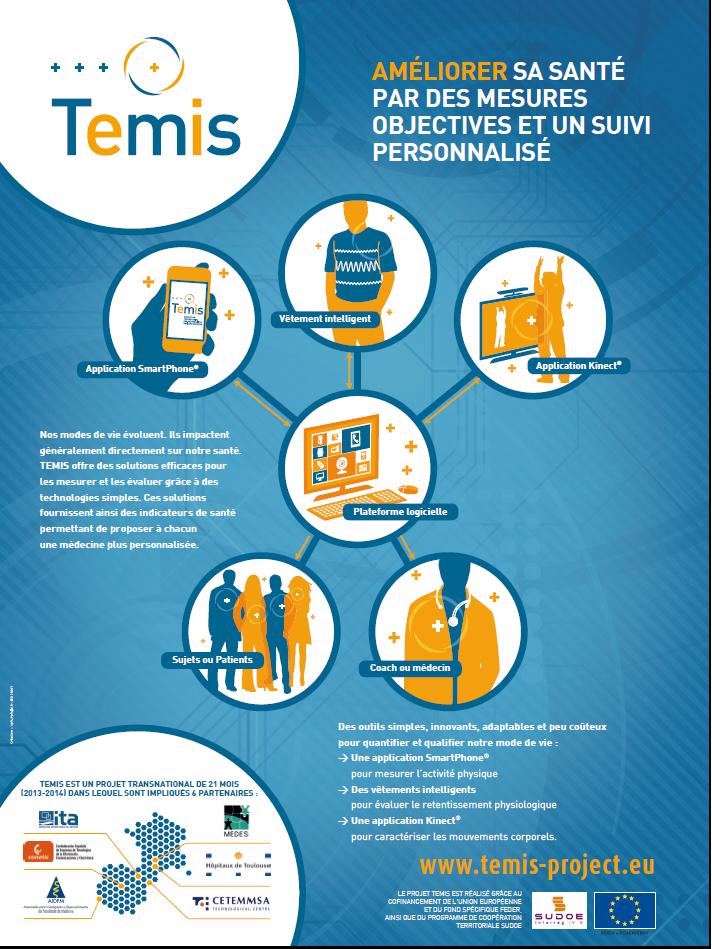 TEMIS t

echnologies

TEMIS proposes developing such technologies, testing them on healthy subjects and patients while also ensuring their transfer to industrial companies and service providers.

The proposed technologies may be used either in combination with one another or separately in order to tackle various medical conditions or illnesses. The proposed innovation is both medical and technical. The technologies proposed by TEMIS aim to make it possible to quantify and qualify physical activity or describe the movement of person's limbs. These technologies also combine the data processing necessary to define useful indicators both for the person and the doctor, in addition to the software platform to manage the data exchanged and to supply relevant indicators for the various possible users.

The R&D will be particularly targeting:
An application using a Kinect sensor (a sensor associated with the Xbox gaming console) to describe the movements of the body's limbs for neurological diseases.
A lighter solution to measure physical activity while on the move using a smartphone, possibly combined with an "smart clothe" supplying vital signs (breathing, heart rhythm, skin temperature, etc.)
And finally, a software platform managing the exchange and processing of data and supplying associated services.
These technologies will be evaluated with populations having varying levels of physical activity: 40 healthy young people, 20 obese subjects, 40 elderly people and 30 Parkinson's patients, with subjects being recruited both in Portugal and in France.
The TEMIS project is based on the definition of simple, innovative, yet inexpensive and accessible technologies to quantify and qualify a person's lifestyle, in order to provide health indicators that can then be used for more personalised medicine.
TEMIS, through the involvement of 6 partners, proposed to develop such technologies, to test them on healthy subjects and patients, while ensuring the transfer to manufacturers and service providers.
A video presenting the project is attached.
Technological innovations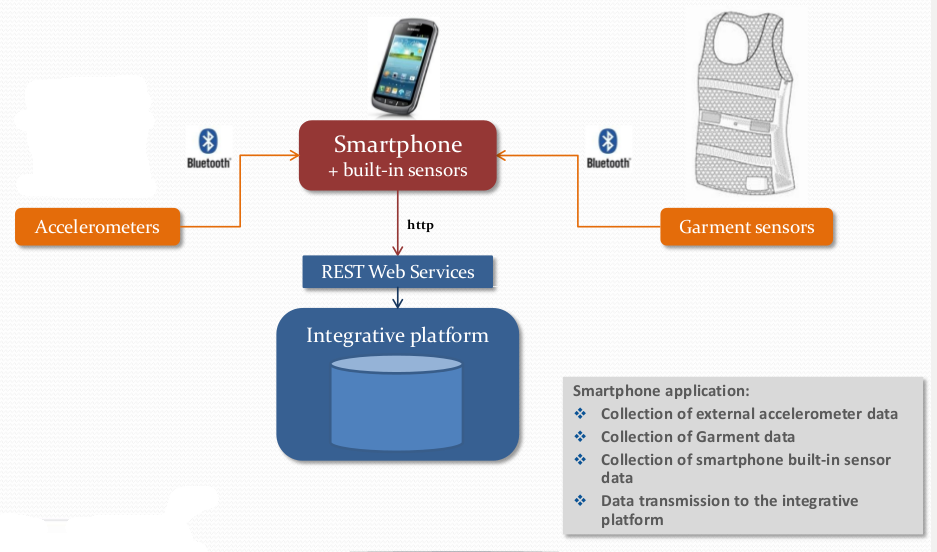 The TEMIS project met the requirements of the SUDOE programme and corresponded to a joint R&D initiative that integrates different regions and Community projects into networks and/or strengthens the investigation-innovation system, improving the international position of the regions in areas of common interest.
Six European partners were involved in this project, representing three cross-border countries: France, Spain and Portugal.
The partnership in detail :
MEDES – Institut de Médecine et de Physiologie Spatiales (Institute of Space Medicine and Physiology): lead partner, development of smartphone applications and integration of the software platform
Instituto Tecnológico de Aragón Area Operaciones Division Tecnologicas Multimedia (ITA): development of the Kinect application
Centre Hospitalier Universitaire de Toulouse (CHUT): medical specifications, evaluations on healthy subjects and patients.
Associação para a Investigação e Desenvolvimento da Faculdade de Medicina Universidade de Lisboa / Faculdade de Medina: medical specifications and evaluation on healthy subjects and patients.
Fundació CETEMMSA: development of the intelligent clothing sub-system
Confederacion Española de Tecnologias de la Informacion Comunicaciones y Electronica (CONETIC): co-ordination of the co-operation network, promotion to industry.