Preparation of future manned exploration missions (SpaceshipFR)
Agencies around the world are moving towards increasingly complex exploration missions. These missions to the Moon, to Mars and beyond will require innovative technologies to support humanity in this new adventure. 
To prepare for the future of exploration, CNES, with Spaceship FR, joins the network of European Spaceships coordinated by the European Space Agency to promote French excellence in the fields of Exploration and Human Spaceflights.
Spaceship FR intends to develop human spaceflight through 7 technology topics (see below). It aims to consolidate and integrate the technological bricks needed for future lunar and Martian bases. This is achieved by building bridges between stakeholders by spinning off technologies from space to Earth and Earth to space.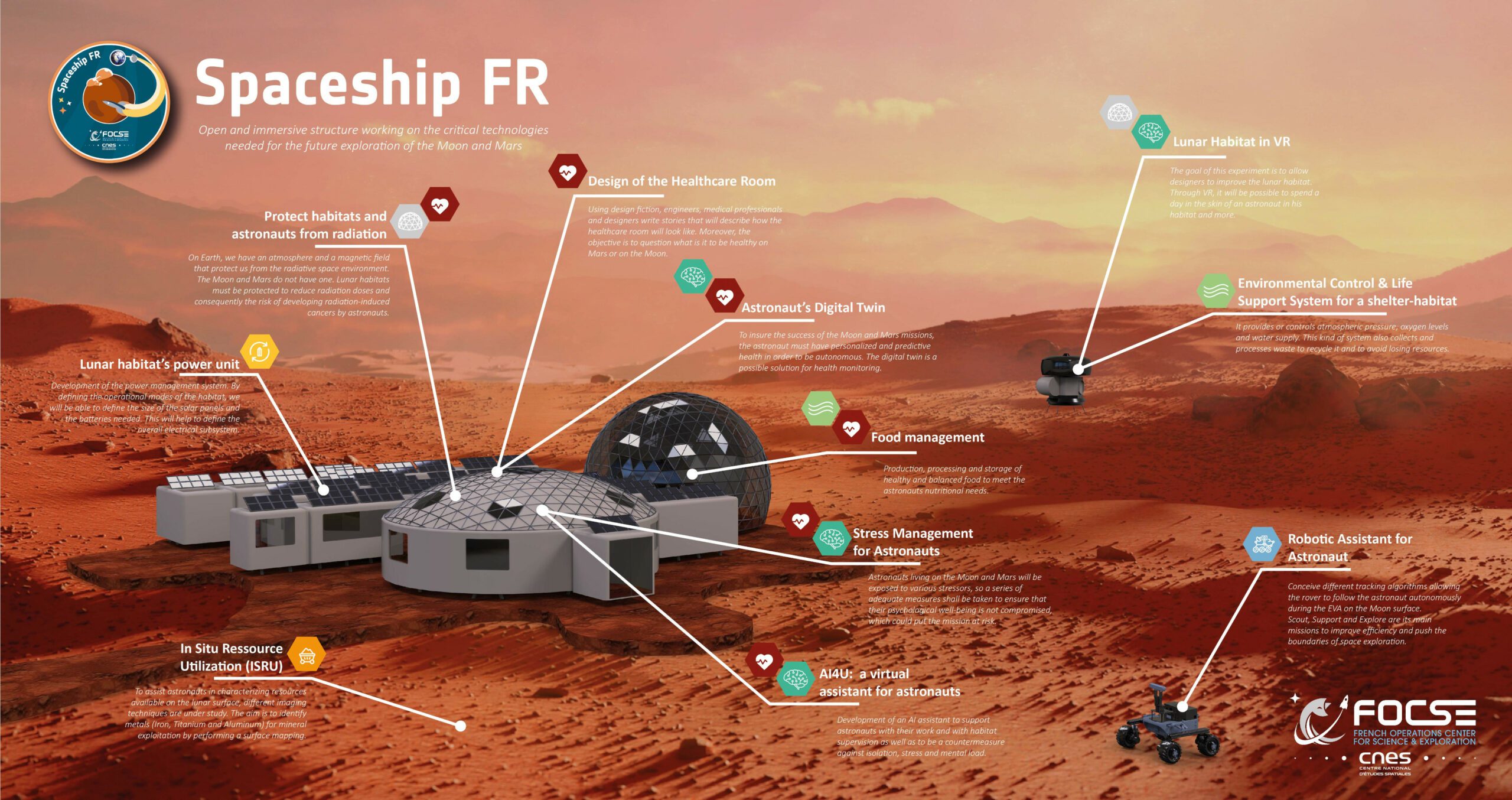 Objectives of Spaceship FR
The Spaceship FR goals can be summarized with 3 words:
INSPIRE
Spread the awareness towards a general audience,

Foster French professional talents through technological development.
CONNECT
Facilitate collaborative and interdisciplinary projects,

Extended network of industry and research experts to accelerate the development of innovative solutions
SUPPORT
Through research and experimentation, support the growth of innovative solutions towards their space applications and improve their terrestrial implications.
At Spaceship FR, MEDES develops health and nutrition topics.
This translates into:
the organization of workshops and the matchmaking between Health and Space ecosystems.
the setting up and follow-up of projects with students, industry and even laboratories.
the mentoring of interns, post-docs and PhD students.
the valorization of the work done at Spaceship FR through publications and conferences